Ashwani Soya Chunks Pulao is a delicious and flavorful dish made with soya chunks, rice, and a variety of spices. It is a great option for vegetarians and vegans, as well as those looking to add more plant-based protein to their diet. The recipe is easy to make and can be prepared in under 30 minutes.
Ingredients:
1 cup basmati rice
1 cup Ashwani Soya Chunks
1 onion, finely chopped
2 cloves of garlic, minced
1 tsp ginger-garlic paste
1 tsp cumin powder
1 tsp coriander powder
1/2 tsp turmeric powder
1/2 tsp red chili powder
Salt, to taste
2 cups water
2 tbsp oil
2 tbsp chopped cilantro (optional)
Instructions:
Soak the Ashwani Soya Chunks in hot water for 10 minutes. Drain and squeeze out the excess water.
In a pan, heat oil and add onion, ginger-garlic paste, and garlic. Fry until the vegetables are cooked through.
Add cumin powder, coriander powder, turmeric powder, and red chili powder. Stir well.
Add soya chunks and stir well.
Add rice and stir well.
Add salt and 2 cups of water. Bring to a boil.
Cover and cook on low flame for 18-20 minutes or until the rice is fully cooked and the water is absorbed.
Remove from heat and fluff the rice with a fork.
Garnish with chopped cilantro (if desired).
Serve hot with raita or chutney.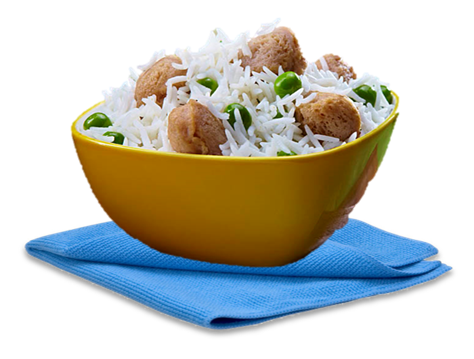 This Ashwani Soya Chunks Pulao recipe is a perfect main dish for dinner. The dish is flavorful, and the soya chunks give it a meaty texture that makes it a great alternative to traditional meat dishes. You can adjust the level of spiciness to your liking by adding more or less red chili powder. This dish can also be made with other vegetables like broccoli, carrots, or mushrooms to make it more nutritious. The addition of ginger-garlic paste gives it a nice aroma and flavor. This dish is a complete one-pot meal and it is perfect for a busy weeknight dinner.