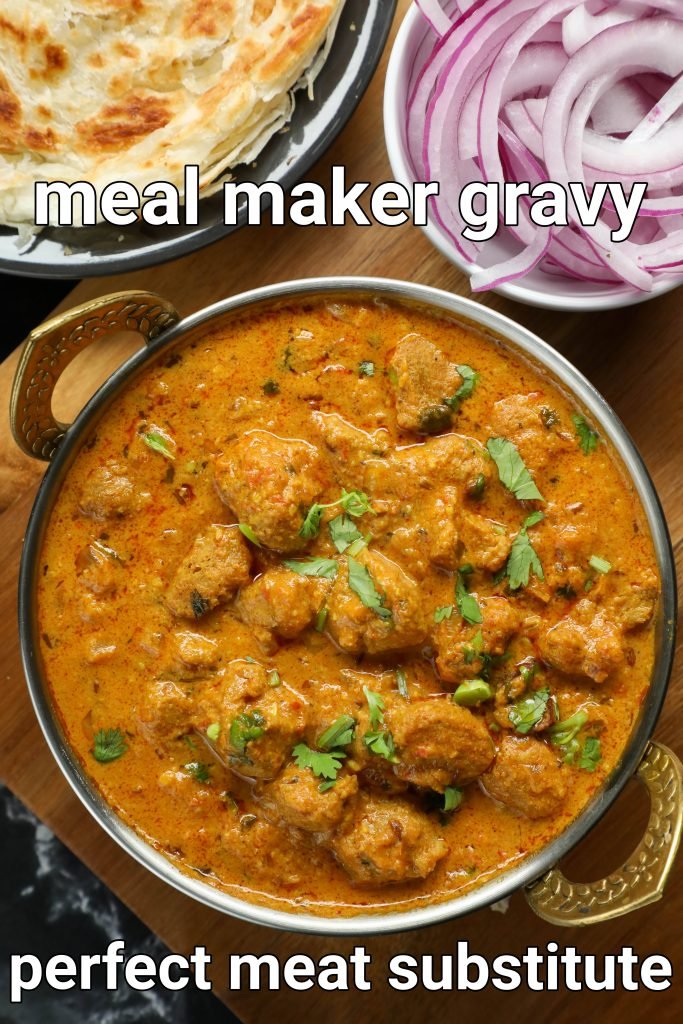 meal maker curry recipe | soya chunks recipe | soya chunks gravy with detailed photo and video recipe. curry or gravy recipes has always been an integral part of indian cuisine and a must for most of us. it is predominantly used for lunch and dinner as a compliment to the flatbreads like roti, paratha and chapati. it can be done with vegetables, and meat and also with meat like alternatives vegetarian alternatives like meal maker curry recipe known for its significant similarities to the meat curries.
as i was explaining earlier, i have prepared this recipe very similar to the meat curry or chicken/lamb curry. basically, i have included a step to marinate these boiled soya chunks with curd, ginger garlic paste and lots of spice powders. this would help to soften/tender and also injects all the spice flavours to the meal maker. generally, we do not marinate vegetables or paneer, but this step ensures the curry is loaded with flavour and spice heat. as a matter of fact, i have posted another variant of the soya chunks curry which is similar to any veg or paneer curry. there is no marination with curd and spices and follows the traditional way of preparing the curry. to be honest, once you follow this recipe, you may never go back to the old way. especially the meal maker absorbs the marinated sauce to make it a spice rich curry.
furthermore, some more additional tips, suggestions and variants to the soya chunks recipe. firstly, even before starting the recipe, you need to make sure the soya chunks are properly boiled in clean water. it may contain a lot of dirt in it and boiling helps to remove that dirt and also reduce the strong smell from the meal maker. secondly, while preparing the gravy, i have used finely chopped onions with tomato puree. this would help to hasten the cooking process. but you can also prepare it with finely chopped tomatoes if you like to get a thick and rough texture to the gravy. lastly, if you feel the spice heat level is too much to handle, you may lower it by adding cooking cream or beaten yoghurt. this should be added only once the gravy is prepared and the flame is turned off.