Seviyan kheer also known as vermicelli kheer is a must at any festival at our place. This creamy seviyan kheer is a North Indian sweet made with wheat vermicelli, milk, sugar, dry fruits and flavored with spices. This incredibly easy recipe of semiya kheer comes together in 20 minutes and makes for an excellent dessert or sweet that can be eaten as is or served with a North Indian meal.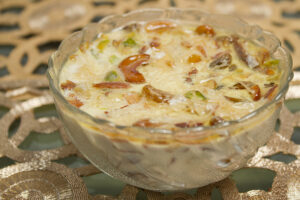 About This Seviyan Kheer
The Hindi word Seviyan means vermicelli in the English language and called Semiya in South India. Kheer is a pudding like dish made with milk but not as thick as the western puddings and has a flowing consistency.
There are many varieties of vermicelli aka semiya available in the market. In the North Indian recipe of seviyan kheer, typically and almost always whole wheat vermicelli is used. These are fine thin strands of vermicelli and not thicker ones. But if the finer ones are not available to you, then you can use the thicker ones.
The North Indian version differs from the South Indian version of Semiya Payasam in some ways. E.g. the dry fruits are always fried in ghee and this adds a different dimension of flavor to the payasam.
Moreover, the South Indian versions of payasam are sometimes made with coconut milk and also rice vermicelli. The preparation method is also different.
I share a recipe that is made during festivals or special occasions in my home. Generally, when we make seviyan kheer, we only add cardamom powder. But in this recipe, I have used cloves and saffron strands. Both are optional and can be skipped. But both the cloves and saffron do add their subtle fragrance to the kheer.
For the semiya aka vermicelli, I have used whole wheat thin vermicelli. As far as nuts and dry fruits are concerned you can add your choice of nuts and dry fruits. I have added almond slivers, chopped cashews and golden raisins.
There was a tradition in my home to make whole wheat vermicelli from scratch when we were younger. Good old days!!!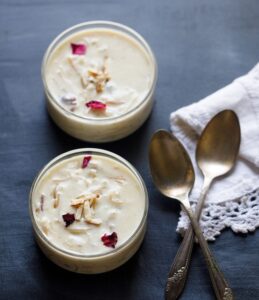 You can serve semiya kheer hot or warm or chilled. Leftover kheer can be refrigerated and served later.
How to make Seviyan Kheer
Roasting vermicelli
1: Heat 1 tablespoon ghee in a heavy kadai or pan.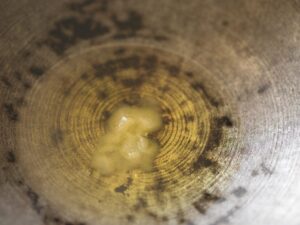 2. Add 3 cloves. Fry for 2 to 3 seconds. Including cloves is optional.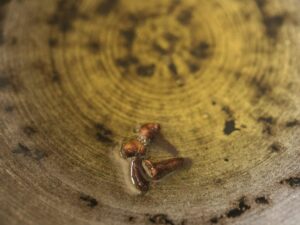 3. Add 1 cup broken seviyan or vermicelli or semiya. If the vermicelli strands are very long then break them with your hands prior to roasting.
Feel free to use seviyan made with whole wheat flour or all-purpose flour – whatever is available to use. But I recommend using thin strands of whole wheat vermicelli.
4. Stir and continuously roast seviyan on low to medium-low heat. Stir often while roasting semiya for even browning.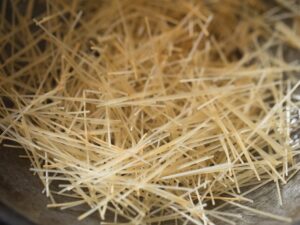 5. Roast on a medium flame till the seviyan strands turn golden brown.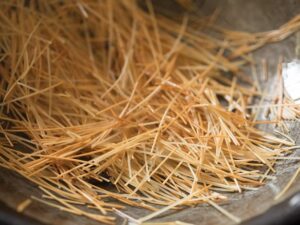 Making vermicelli kheer
6: Pour 4 cups of whole milk (1 litre) into the pan. Milk can be chilled, hot or at room temperature. For thicker kheer, add less milk.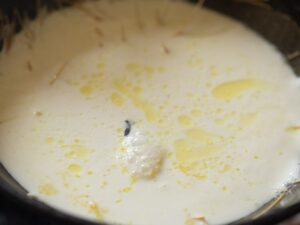 7. Mix very well.
8. Simmer milk on a low to medium-low heat. Stir occasionally so that the milk or seviyan does not stick to the bottom of the pan.
9. Let the milk come to a boil.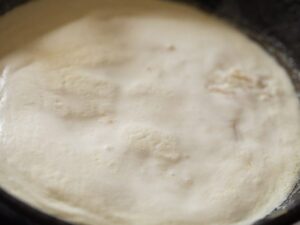 10. Once the milk comes to a boil, then add 7 to 8 tablespoons sugar or as required according to your preferred sweetness.
11. Mix very well so that all the sugar dissolves.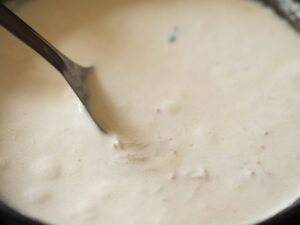 12. Next add 10 to 12 saffron strands. Mix and stir.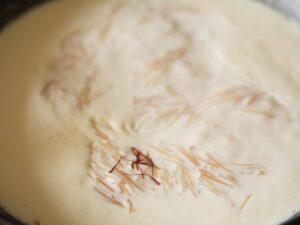 13. Next add 1 tablespoons of sliced almonds and 1 tablespoon chopped cashews. Mix well. You can also add nuts like sliced pistachios, pine nuts at this step.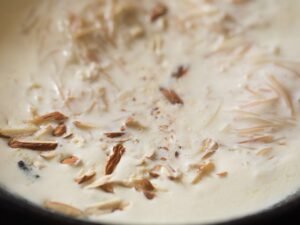 14. Then add ½ teaspoon cardamom powder (ground cardamom).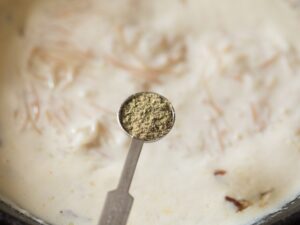 15. Mix well.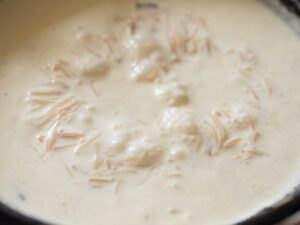 16. Also add some dried rose petals. This step is optional. Skip if you do not have dried rose petals.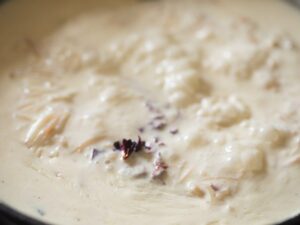 17. Mix well.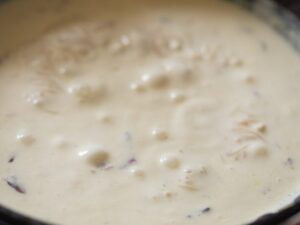 18. Cook the vermicelli kheer mixture for 3 to 4 minutes more till the vermicelli gets cooked and the milk thickens.
When the vermicelli has softened and cooked well, the kheer will also thicken and look creamy. Do scrape the sides of the kadai where milk solids will be collected and add them to the kheer.
Note that on cooling the semiya kheer will thicken more.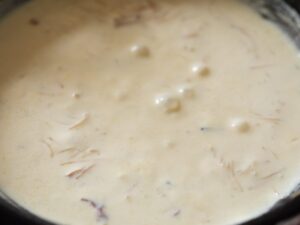 19. Switch off the heat and then add 1 tablespoon golden raisins. Mix again. Check the taste of kheer and if required you can add some more sugar.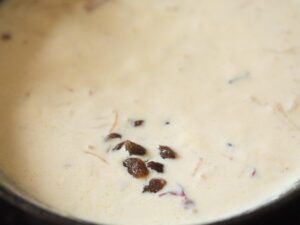 20. Serve the vermicelli kheer hot, warm or chilled. You can garnish with some chopped nuts or dried rose petals while serving.
Store any leftovers in the refrigerator. The kheer will thicken after cooling. While reheating add a splash of milk to loosen the consistency and heat the kheer in a pan.