Shahi Lachha Kheer is a delicious and creamy Indian dessert made with vermicelli noodles, milk, sugar and dry fruits. It is a popular dessert in North India and is typically served during festivals and special occasions. The recipe is quite similar to Sevai Kheer, but it has a different texture and presentation.
Ingredients:
1 cup Shahi Lachha  4 cups milk
1/2 cup sugar
1 tsp cardamom powder
2 tbsp ghee
2 tbsp raisins (optional)
2 tbsp chopped nuts (almonds, cashews) (optional)
2 tbsp chopped dry fruits (optional)
Instructions:
Heat ghee in a pan and add vermicelli noodles. Fry until golden brown and set it aside.
In a separate pan, add milk, sugar and cardamom powder. Bring it to boil and then reduce the heat to low.
Cook for 15-20 minutes or until the milk thickens and reduce to about half of the original quantity.
Add the fried vermicelli to the milk mixture, mix well and continue to cook for additional 5 minutes or until the vermicelli is fully cooked and the kheer has thickened.
Add raisins, nuts and chopped dry fruits (if using) and stir well.
Remove from heat and let it cool down to room temperature.
Serve chilled or at room temperature.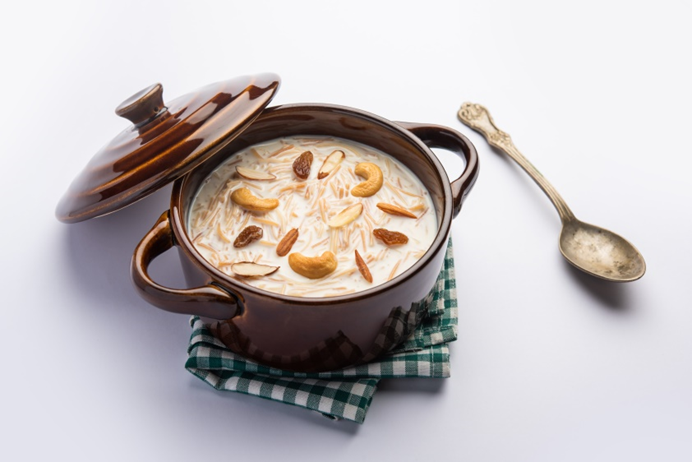 Shahi Lachha Kheer recipe is a perfect dessert for any occasion. The dish is rich, creamy, and sweet, and the vermicelli gives it a unique texture. The cardamom powder adds a nice aroma and flavor to the kheer. You can adjust the level of sweetness to your liking by adding more or less sugar. You can also make this dish more nutritious by adding dry fruits like almonds, cashews and raisins. The addition of ghee gives it a rich and nutty flavor, making this dish a perfect comfort food. The difference between Lachha Kheer and Sevai Kheer is that Lachha kheer is cooked with more milk and thus making it thicker and it is also garnished with some additional dry fruits.